So, I have a friend. She was a teenager or pre-teen when I started attending the church where I currently worship and work...and now, she is going to be a MOMMY! (Where, oh where, has the time gone???) She and her husband, who I totally approved of way before the wedding, by the way (she says, as though she were a key component to this match, which she was not)...they are going to be great parents! Right now, the birth of their first child is just around the corner, and they have made a bold move on the Nursery Decorating Front. Super Heroes!!!
They are both fans of the
comic book
graphic novel, and of many artsy endeavors
(music, writing, etc.)
, so this is very fitting for their family! However, there are not too many patterns
(that I have found anyway)
for baby sweaters and blankets in the Super Hero theme. But, fear not, faithful citizen! It's Super Pretty Knitter to the rescue with this set!!!
I took two of my favorite patterns, the
Simple Set-In Sleeve
sweater pattern from
Knittingfool.com
, and the
Baby Blocks
blanket pattern from one of Debbie Macomber's Blossom Street novels. I knew that this red was the right red, even though I also knew that it would be a problem to photograph...but, heck! I even found buttons to match the yarn almost exactly!
Then, once I picked the blue and started knitting, I realized that these truly were the perfect, super-hero colors. After all, Superman, Spiderman and Wonder Woman have all chosen these colors, as well as my own favorite, childhood superhero...
Underdog
!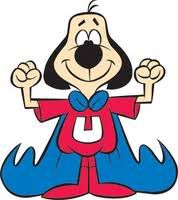 That Sweet Polly Purebred really got herself into a pickle more times than I can count! But our hero was always there, in his signature red and blue, to save the day...and Polly!
"When Polly's in trouble, I am not slow,
It's Hip, Hip, Hip, and away I go!"
Because, of course...
"There's no need to fear! Underdog is here!"

Clearly, I spent far too much time in front of the television during my childhood...I get a LOT of my inspiration from "vintage" TV shows and cartoons. But, now that this set is on it's way to the parents-to-be, I think I will turn off the TV today, and head outside for a bit. First, just one more look...
I hope they like it!
Thanks for stopping by, and Knit in Good Health!